Home birth – numbers may rise during the coronavirus situation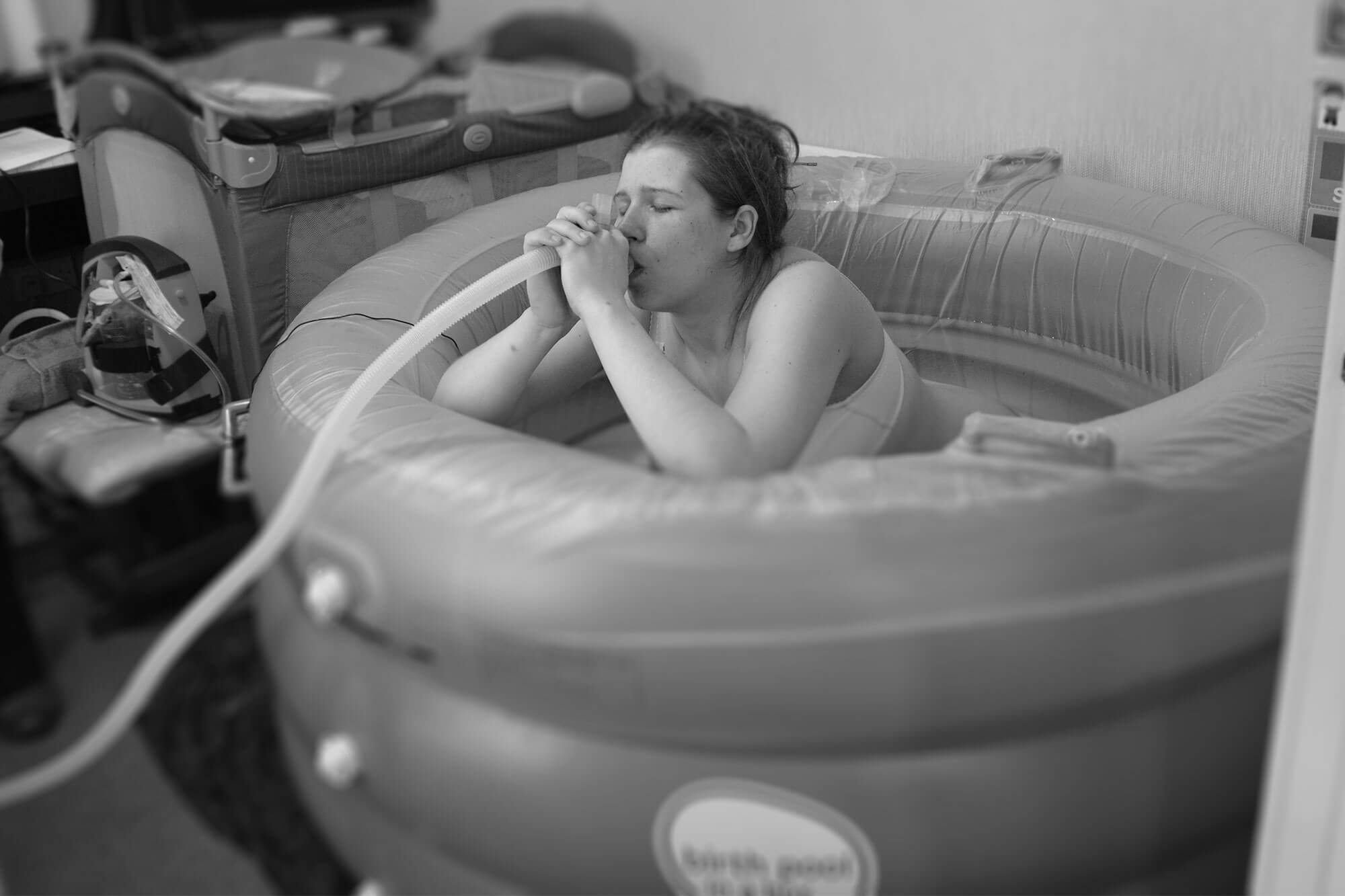 In light of the spread of the COVID-19 coronavirus, many women are now considering home birth, even if it isn't something that they would have thought of before. Here we outline the answers to the most frequently asked questions about home birth in Northern Ireland:
Is it safe?
Am I allowed/suitable?
What are the pros and cons of home birth?
What if I have to transfer into hospital?
What happens if something goes wrong?
How do I book a home birth?
What about the mess?
How can I find out more?
1. Is it safe?
In a word, yes – for most women it is safe to birth at home with the support of a midwife.
The official NI guidance is available at rqia.org.uk/planningbirthathome
It contains full details about home birth in Northern Ireland, including the statement that it is SAFE for most women.
Home birth is safe for most women
Home birth is offered in all parts of Northern Ireland
Midwives will bring essential equipment to your home
Research has shown the following with regards to Home birth.
| Giving birth for the first time | If you have had a baby before |
| --- | --- |
| 79% chance of having a normal vaginal birth | 98% chance of a normal vaginal birth |
| 45% chance of transfer to obstetric unit | 12% chance of transfer to obstetric unit |
There is a less than 1% chance of your baby having a serious medical problem at birth regardless of place of birth.
Women who birth at home tend to need fewer interventions than women who book a hospital birth. For healthy women having a straightforward pregnancy, less than 1% of babies have serious medical problems, regardless of the place of birth.
2. Am I allowed/suitable?
Again, the short answer is YES. It is up to you where you have your baby.
However the pathway is slightly different depending on whether there is an issue to do with your health, your baby's health/development, or your history.
If you are well and your pregnancy is straightforward, you are automatically suitable for home birth and you simply need to inform your midwife of your plan to birth at home.
If you have one of the 'complications' or factors listed in the purple box below, you are also deemed automatically suitable for home birth. This often surprises women who assume that these factors will make it more difficult to birth at home.
Home birth is particularly suitable for women who are having a straightforward pregnancy, and have therefore not experienced any complications. This means that you are pregnant with one baby, that both you and the baby are healthy, and that you go into labour between 37- 42 weeks of pregnancy.
However, home birth may also be suitable for other women, such as those described in the box below (from the RQIA Planning Birth at Home Guideline).
Home birth is suitable for you if you:
Are aged between 16 and 40 years at your booking appointment
Are pregnant following assisted conception with Clomifene
Had a Body Mass Index (BMI) at booking that is greater than or equal to 18kg/m2 and less than or equal to 35 kg/m2
Had a previous third degree tear with no significant symptoms
Had a previous baby with a condition requiring medical assistance, and in this pregnancy there is no evidence of the same condition recurring
Have had up to 4 previous vaginal births in the absence of a uterine scar
Have experienced mental ill-health and fulfil the criteria for Step 1 & 2 of the Regional Perinatal Mental Health Care Pathway (http://bit.ly/PMHcarepathway)
Have had a threatened miscarriage but pregnancy continued normally
Have a last recorded blood count (iron/haemoglobin) of at least 100g/l prior to labour
Have a placenta that was previously low lying but is now in a better position
Have a medical condition that does not affect your pregnancy
Are receiving support from Social Services with no impact on your pregnancy
Have had a threatened early labour, and have reached 37 weeks
Have blood results showing serum antibodies with no clinical significance (i.e. this has no effect on your baby)
Have had previous cervical treatment and have reached 37 weeks
Are having a baby which is growing normally as recorded on your customised growth chart
Are in labour, your waters broke on their own less than 24 hours ago, you have no signs of infection, you are feeling well and a midwife has confirmed that your baby is well
Have had your waters break on their own, they are slightly green in colour, and a midwife has confirmed that your baby is well
If you have a complication other than those included in the purple box – for example if you have previously had a caesarean section – then it is recommended that an Individualised Care Plan is agreed as part of the preparations for your home birth.
The Individualised Care Plan will focus on issues specific to you and to this pregnancy, rather than on any general issues associated with pregnancy and childbirth.
All discussions about the 'risk' or 'chance' of complications with your birth will follow best practice.
This means that discussions will be
Individualised and relevant to you and your pregnancy
Evidence based and balanced (particularly when discussing uncommon events and complications)
If you still have any questions after you have talked with your midwife, or if you want more support for your choice of birthplace, you can get in touch with the Head of Midwifery/Consultant Midwife from your local Health and Social Care (HSC) Trust (contact details available on your local HSC Trust website).
Depending on your situation, you may need additional discussions and an Individualised Care Plan:
Your midwives and doctors will follow the pathway below when supporting you through your pregnancy. Apart from additional discussions, if needed, to create an individualised care plan, your antenatal care will follow the usual pattern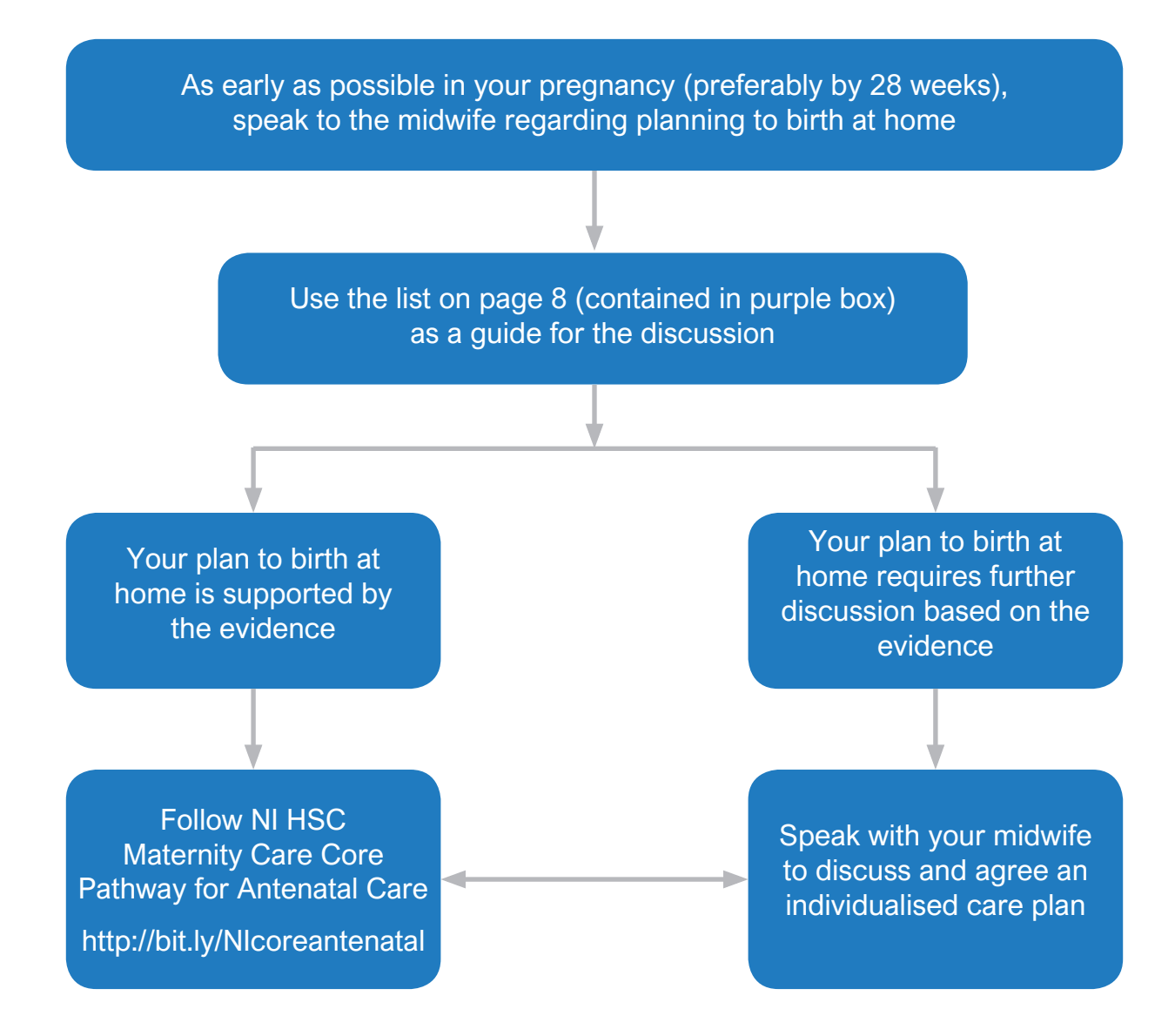 3. What are the Pros and Cons of home birth?
To chat to other women who have had home births or are planning to birth at home, consider joining the facebook group 'Northern Ireland Home Birthers and Hopefuls'.
In the meantime, here's a summary of the Pros and Cons as included in the official NI guideline:
Advantages
Disadvantages

You are more likely to feel relaxed in your own home.
You are more likely to be looked after by a midwife whom you have got to know during your pregnancy.
You are more likely to have a normal labour and birth.
You are less likely to experience interventions such as having your waters broken or having a drip to speed up your labour.
You are less likely to require a diamorphine injection or an epidural for pain relief.
You are less likely to need a caesarean section, ventouse (vacuum) or forceps to assist with the birth of your baby.
You are less likely to need a blood transfusion.
You are more likely to breastfeed successfully (if this is your choice).
You and your partner will be able to stay together during and after the birth.

You may transfer to a MLU/ obstetric unit during labour or after baby is born. An emergency (blue light) transfer is rare.
You can access gas and air and medication such as a diamorphine injection at home. However, if you would like stronger pain relief, such as an epidural, you will need to transfer to obstetric unit.
4. What if I have to transfer into hospital?
Almost all women transfer into hospital during labour. Some women booked for home birth transfer to hospital during labour – commonly for additional pain relief or because labour is slow. Most home birth transfers are not emergencies – blue lights are rare! Transfer can be via your own car or by ambulance. Home birth transfers are usually calm, peaceful, and slow.
If this is your first baby, there is a reasonable chance that you will transfer at some stage during labour or after your baby is born. Women who have done this say that it was still worth booking the home birth as they enjoyed all of the benefits of having much of it at home with their own midwife.
The official NI guideline outlines some common reasons for transfer:
During labour
After the birth
Women:

Signs of infection
Raised blood pressure
Significant bleeding
Woman requests transfer
Woman requests epidural (only available in hospital)
Delay in either 1st, 2nd or 3rd stage of labour


Baby:

There is significant meconium (this means the baby's bowels have opened in the womb)
Abnormal heart rate
Shoulder dystocia (baby's shoulders were slow to come out and internal manoeuvres were needed)
Cord prolapse
Unexpected breech

Women:

Signs of infection
Raised blood pressure
Significant bleeding
Complex perineal tear (the perineum is the area between the vagina and the anus)
Retained placenta (neck of the womb closes before the placenta comes out)


Baby:

Baby has required active resuscitation
Baby is born who is less than expected weight on a customised growth chart
Any congenital abnormality detected
Signs of infection
Adapted from South Eastern Health and Social Care Trust 'HOME BIRTH - When a transfer to hospital for ongoing care may be needed (2017)' document.
It is important to note that your midwife is skilled in dealing with all of these situations at the time, and that you can transfer safely and calmly to hospital if you need extra monitoring or intervention by an obstetrician (childbirth doctor).
5. What happens if something goes wrong?
It is rare for things to go wrong at a home birth. If there is a problem or a concern about you or your baby, your midwife will manage this while also recommending you transfer into hospital if appropriate. It is also important to note that sometimes things 'go wrong' in hospital simply because the woman is in hospital. When a woman is comfortable and relaxed in her own home, with good caregivers and a feeling of security, birth generally goes very well.
6. How do I book a home birth?
Simply let your midwife know that you are considering having a home birth, or have decided to birth your baby at home. She will then make the necessary arrangements, including developing an individualised care plan with you if needed. She will also ensure that all of the equipment she will need is delivered to your home. This usually happens around 37 weeks.
7. What about the mess?
Women who have had (or are planning) a home birth in Northern Ireland have suggested the following tips for you to consider:
Hire or borrow a birthing pool – water birth is amazing!
Think about your older children. You can arrange a babysitter, or they can be there for the birth.
Do you want your pets to be there? If not, you'll need to arrange for them to be looked after.
Have the right food available – for you, your birth partner/s, (and for the midwives, if you want to).
You don't need a huge room, especially if you're not hiring a pool.
Nobody will inspect your house for cleanliness! All homes are suitable for home birth (unless your home is unsafe in some way).
Make your birth room special by putting up fairy lights and printing out affirmations, if you want to.
Cleaning up isn't a big deal – there's much less 'mess' than you would think. Buy a cheap plastic sheet or shower curtain and throw it out afterwards.
8. How can I find out more?
---