Birth choice options for women in Northern Ireland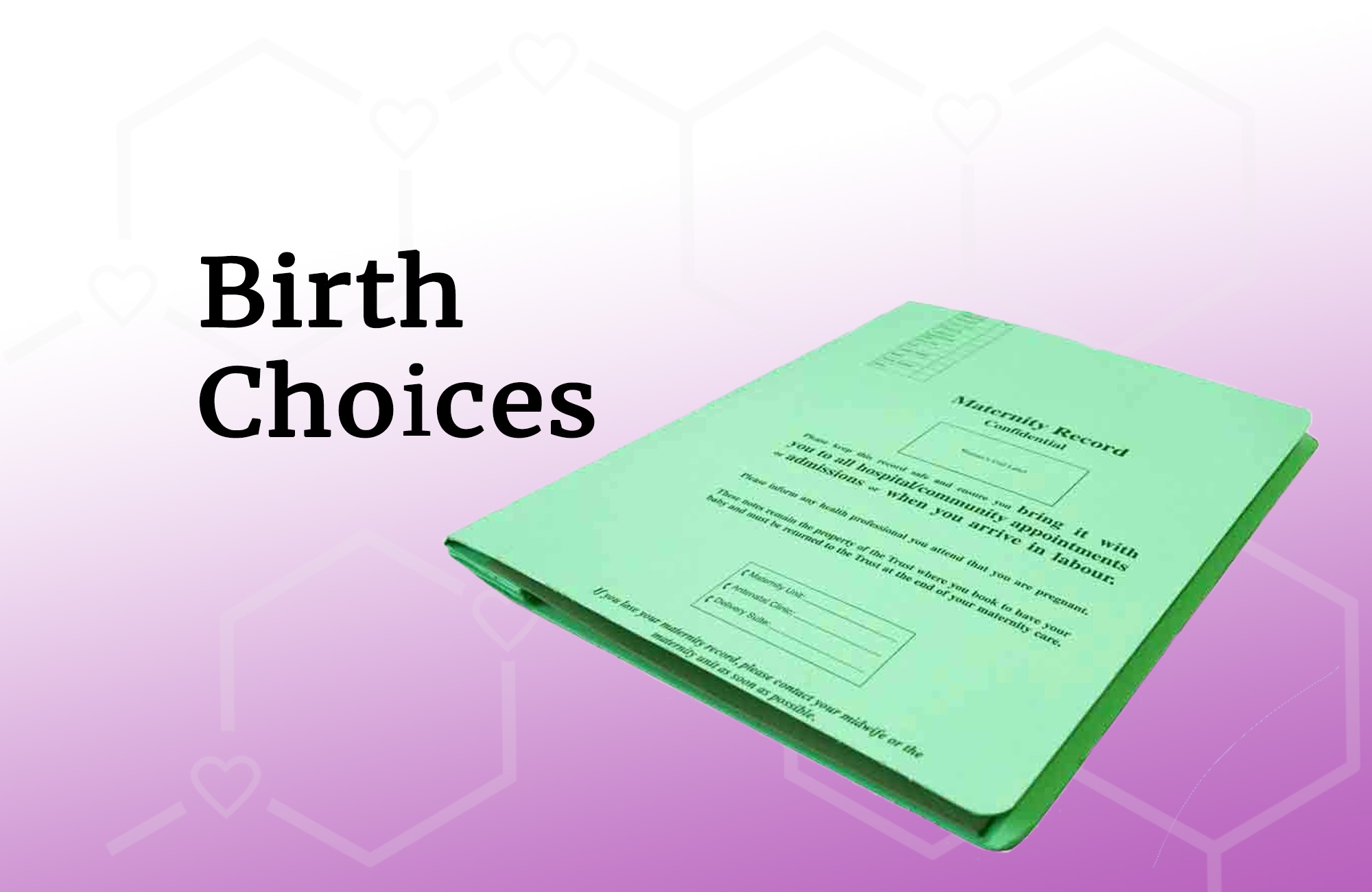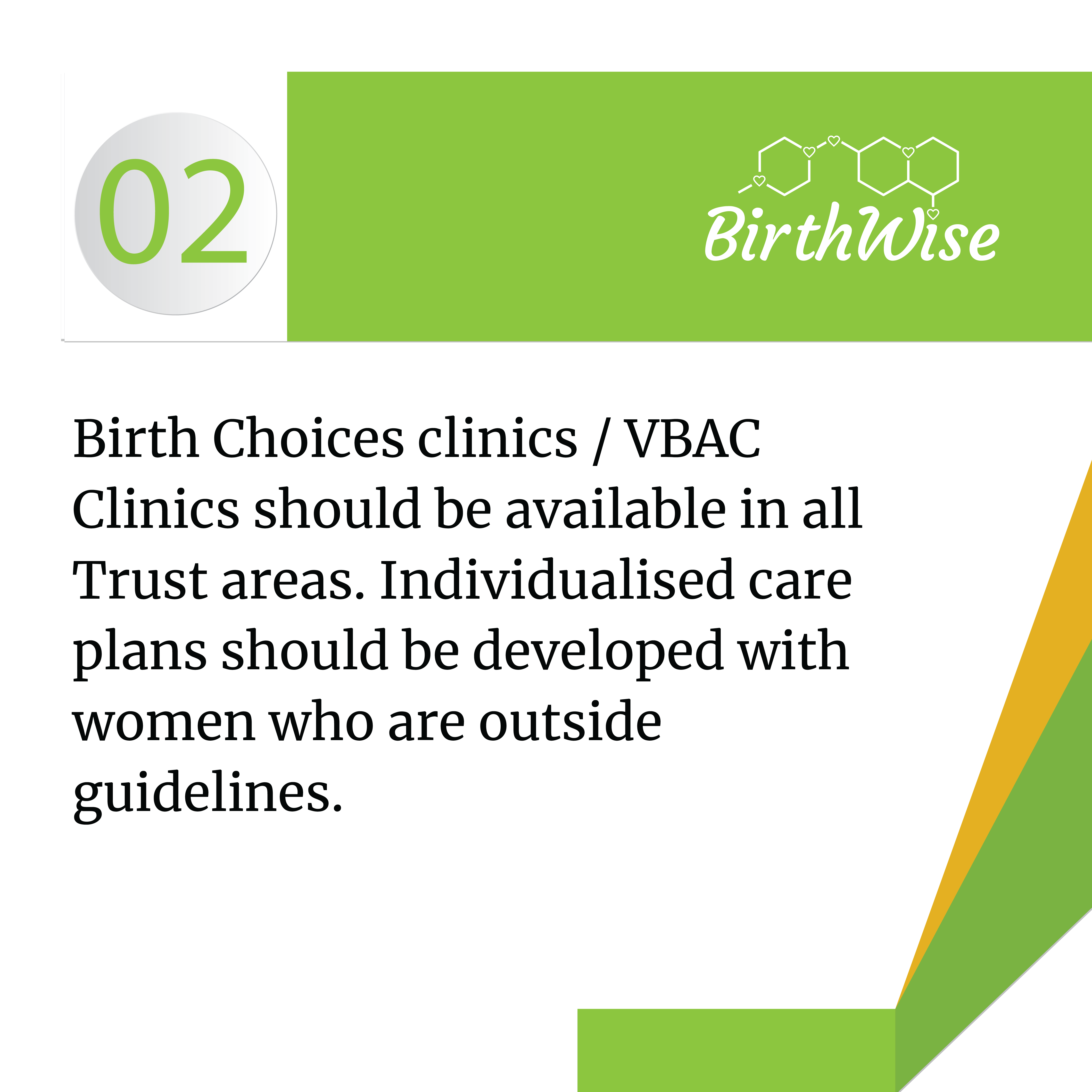 Recommendation 2: Birth Choices clinics / VBAC clinics / breech clinics should be available in all Trust areas. Individualised care plans should always be developed with women who are deemed to be outside guidelines.
---
Birth choice options for women in Northern Ireland are often dependent on their geographical location and the options their local maternity service is willing and able to provide, and for this reason some women choose to birth outside of their local area. In cases where women have had a previous caesarean section/s and would like to go on to attempt to have a vaginal birth, known as vaginal birth after caesarean (VBAC, pronounced 'vee-back'), or women who have a baby presenting as breech and would like to aim for a vaginal breech birth, this geographical inconsistency in services means some options are not always available.
Some women who responded to the BirthWise survey described feeling unsupported in their decision to opt for a VBAC, or their wishes to have a vaginal breech birth. They reported being told that an elective caesarean was the only option for them within their local maternity service provider, and that current guidelines were often used as a way of shutting down discussion.
The Royal Jubilee Maternity (RJMS) provides Birth Choices clinics led by consultant obstetricians and midwives. Similar clinics are beginning to be offered in other units, though not all of them. Birth Choices clinics provide an opportunity for women who have previously had a caesarean section or traumatic birth to explore their birth choices for the current pregnancy. Information is provided in a neutral way, enabling each woman to make the decision that is right for her – whether a VBAC or a planned caesarean birth. In circumstances where the woman has had more than one previous caesarean birth and wishes to attempt VBAC, most maternity units within the region will decline to facilitate this and refer the woman to RJMS in Belfast. There is also the concern that women from outside the Belfast area have reduced birth choices available to them, requiring them to travel long distances to receive care where it could be safely provided locally, and consultants in other units may potentially become deskilled, which perpetuates the problem.
In recent years, particularly since the Montgomery legal ruling, increased emphasis has been placed on ensuring that women are fully aware of all options available to them and their relative risks and benefits. Women themselves are better informed and empowered to ask questions and discuss options.
The women who completed the BirthWise survey and had attended the RJMS Birth Choices Clinics reported high levels of satisfaction. For some women the choice to attend the RJMS meant they were birthing outside their local area, but their decision was based on the available support for the birth they wanted to have.
"I had my first by caesarean in [different trust]. I had a vbac in 2016 and wanted the same again."
"My consultant and the midwife were amazing throughout and made the experience fantastic. Having PTSD from a horrible first birth it made so much difference. I felt liberated."
A key element of these clinics is the individualised care plan that is developed for each woman and supported by the maternity team. The plan is based on factors that are material to each woman in her current pregnancy, and the plan ensures that the woman and her caregivers understand what has been agreed.
We welcome the use of individualised care plans and see them as a crucial element in high-quality maternity services. The new guideline for women planning to birth at home in Northern Ireland also includes the use of individualised care plans when appropriate and this is also welcome. We believe that any future maternity strategy for Northern Ireland needs to ensure individualised care planning as the norm in maternity care.
As HSC Trusts in Northern Ireland move forward with our recommendation, we would like to also see the development of a referral guideline in conjunction with commissioners which describes:
women who are appropriate to refer to RJMS,
women who should be cared for locally and
women who should be seen for an opinion but referred back to their local provider for ongoing care
It is vital that women are offered the choice of VBAC and vaginal breech care in their local area. BirthWise will continue to work with trusts, midwifery lecturers, RCM, and decision-makers throughout the HSC to pursue this.
---